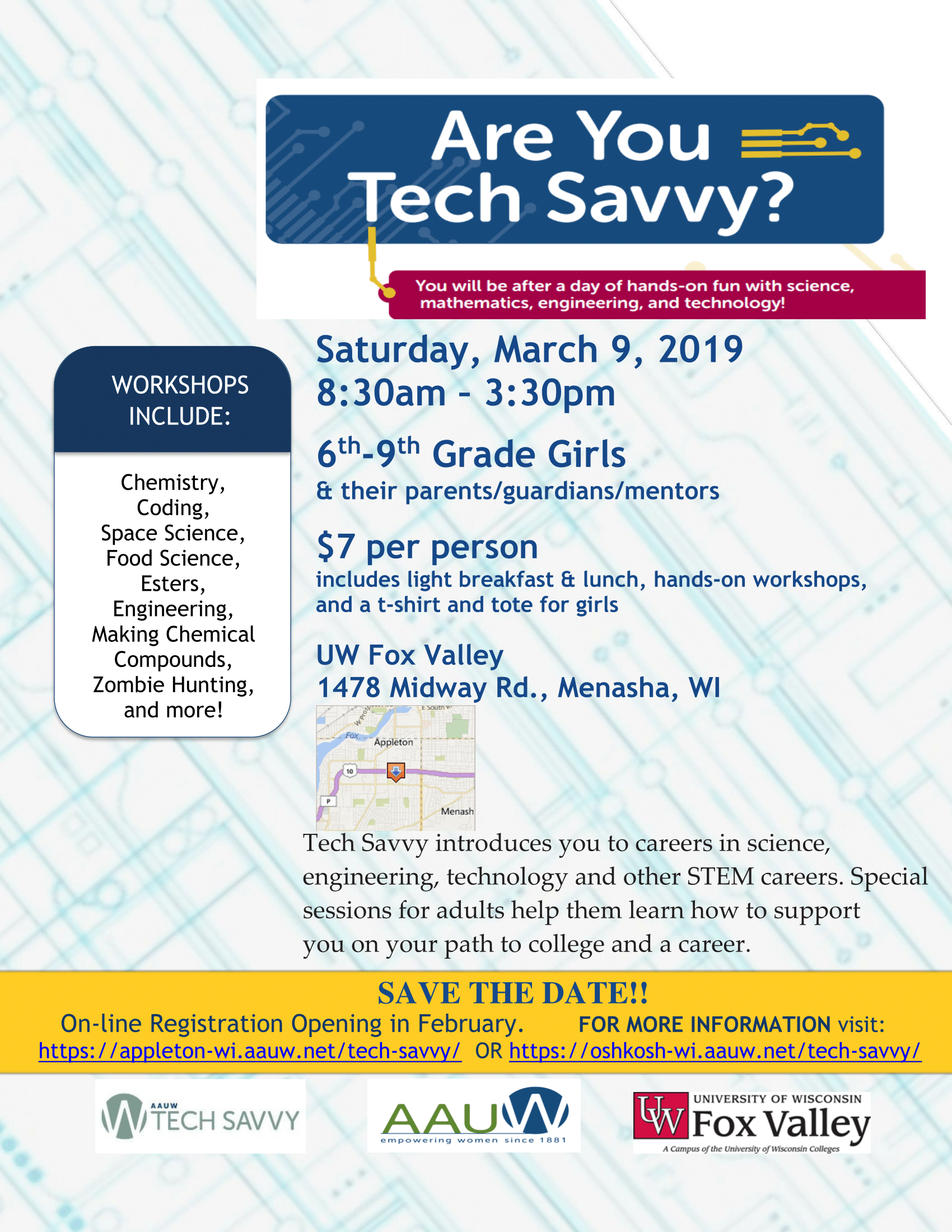 Click here to view a larger version of the poster
Register for Tech Savvy
Registration opens Monday, February 11!
Please consider donating to Tech Savvy –
Make check payable to: Tech Savvy-Fox Cities
Mail to: Susan Morrissey, 387 Naymut St, Menasha, WI 54952
We appreciate your support!
What is Tech Savvy?
Tech Savvy is a one-day conference designed to give sixth to ninth grade girls and their parents an opportunity to experience firsthand how science, technology, engineering, and math (STEM) fields can lead to exciting careers. There are also informative workshops planned just for parents/guardians/mentors who attend.
Date and Location: Saturday, March 9, 2019, 8:30 to 3:30
Cost: Only $7 per girl and an additional $7 for each parent/guardian attending with her. Cash and checks are accepted at the door.
Parking: Our parking lot is on the west side of the building. Use Entrance 16W, located near the Communication Arts Center. From Midway Rd, turn onto University Drive.  There is plenty of free parking.
Click here for directions to the UW-Fox Valley campus.
Click here for a map of the Campus Buildings and Parking.
AAUW Tech Savvy-Fox Cities — March 9, 2019 — UW Fox Valley
Our Keynote speaker is Elizabeth Braatz, a 2013 graduate from Appleton North. She is a lepidopterist for a major butterfly house in Florida.  She will share her STEM journey and the joys and challenges of her career.
STEM Workshops
Workshop Start & end times:
Workshop 1  9-9:50am
Workshop 2  10-10:50am
Workshop 3  11-11:50am
Girls STEM Workshops—Morning Session list
First year girls:  Choose Two and College Savvy
Returning girls:  Choose Three
College Savvy – Required for First-Year Attendees (if you are attending with a parent, sign up for the same time slot they do)
Investigate colleges and university programs that mesh with your STEM career goals.  Complete a mock college application and interview with a College Recruiter.  You will also go on a Scavenger Hunt to learn more about what each school has to offer.
Bubble! 
Acme Bubbles has received low reviews on their website due to the short longevity of their bubbles. The customers are complaining that the bubbles burst as soon as they are formed, leading to soap in their children's eyes and a lot of tears. Come become part of the research and development team.
Making Compound Medications
Learn how to make our very own compounded "medication" while exploring the inside secrets of the pharmacy world. We will discover how to assist our neighbors and how to influence healthcare.
Genes in a Bottle
Come capture your genetic essence in a bottle!  In this session, you will extract genomic deoxyribonucleic acid (DNA) from your cheek cells and watch it precipitate from solution as floating white strands.  Your very own DNA will be collected and transferred to a helix-shaped necklace that you can take home.
Zombie Hunting
Use critical thinking and problem solving skills to reduce the number of Zombie attacks in our city! 
Microorganisms in My Food? 
Did you know the chemical breakdown of a substance by bacteria, yeasts, or other microorganisms, typically involving effervescence and the giving off of heat can be delicious?   Learn about fermentation through the making of pizza dough!
Learn Computer Coding Using Adafruit
Would you like to learn electronics, with an all-in-one board that has sensors and LEDs built in? Circuit Playground is here – and it's the best way to practice programming on real hardware with no soldering or sewing required!
Stellar Classification and Exoplanets
Stars and planets are very far away from us, so how do we know so much about them? We use light to determine what stars are made of, how far away they are, and even the types of planets may orbit them!
Lady Gogo – Car Build and Race
Build a car from Legos and other supplies and race against your new friends! Then see what tweaks you can make to change the speed and get to the finish line faster.  Learn from engineers how design & test iterations are used throughout the engineering process.
Help Save the Monarchs!
Learn about the life of Monarch butterflies, the danger they are in and the work of a lepidopterist! Make milkweed seedballs to provide food for Monarchs.
The Chemistry of Self–Inflating Balloons 
A balloon that inflates on its own? Impossible you say! Chemistry I say! In this session we will explore evidence of a chemistry change. After observing a self-inflating balloon, we will roll up our sleeves, put on our safety goggles, and attempt to determine the chemical reaction responsible for inflating the balloon.
Girl Savvy – Afternoon Workshops 
Workshop Start & end times: 
Workshop 1  12:30-1:05 pm 
Workshop 2  1:10-1:45 pm 
Workshop 3  1:50-2:25 pm 
First-year girls:  Must choose It All Adds Up! and Are You Ready for a STEM Career? and a third of their choice 
Returning girls:  Must choose How Do I Get Ready? and two of their choice 
It All Adds Up!  (All First-Year Girls must sign up for this.)
                                         Sessions: 12:30-1:05     1:10-1:45        1:50-2:25
Learn how to budget based on income.  As a student thinking about how money is earned and where it is spent may not always be a priority.  Once a job is secured and work in a profession begins, we need to know how to plan for an income and how to reasonably spend the money earned.  During this session, you will find out how "It All Adds Up!"
How Do I Get Ready? – Preparing for College and Picking the Right One
(For students who have been to Tech Savvy Before)         Session:  1:50-2:25
Are You Ready for a STEM Career?     (For students who are NEW to Tech Savvy)                              Sessions: 12:30-1:05     1:10-1:45        
Seeing Yourself in the Future     Sessions: 12:30-1:05     1:10-1:45        1:50-2:25
This is a panel discussion of women working in STEM careers.
Managing Your Priorities     Sessions: 12:30-1:05     1:10-1:45        1:50-2:25
Success in STEM requires organizational skills to prioritize the important goals in your life.  This interactive workshop focuses on identifying your priorities and a model for how to use your time to meet your goals.
Netiquette                         Sessions: 12:30-1:05     1:10-1:45        1:50-2:25
"Netiquette" is network etiquette, the do's and don'ts of online communication. Netiquette covers both common courtesy online and the informal "rules of the road" of cyberspace.  Learn how to be an effective "Tech Savvy" communicator!   (This session works toward a Girl Scout badge.)
Nuts and Bolts of Confidence   Sessions: 12:30-1:05     1:10-1:45        1:50-2:25
What is Confidence? Confidence is what turns our thoughts into action. It allows us to do things that seem hard, scary, or impossible.  Join us to move toward a more confident and empower YOU.
Girls' Program — 2019
| | |
| --- | --- |
| 7:30 am-8:30 am | Check-in and Breakfast |
| 8:30-9:00 | Welcome w/adults |
| 9:00-9:50 | Workshop 1 or College Savvy |
| 10:00-10:50 | Workshop 2 or College Savvy |
| 11:00-11:50 | Workshop 3 or College Savvy |
| 12:00-12:30 pm | Lunch w/adults |
| 12:30 – 1:05 | Girl Savvy Skills Workshops |
| 1:10 – 1:45 | Girl Savvy Skills Workshops |
| 1:50 – 2:25 | Girl Savvy Skills Workshops |
| 2:30-3:00 | Keynote Speaker w/adults |
| 3:00-3:30 | Closing Ceremony w/adults |
Parent/Adult Workshops
 Choice of Workshops – offered twice during the day.  The complete schedule will be available when you register.
9:00 and 10:00 am
Career Cruising and Academic Career Planning – Find out about the latest in Academic and Career Planning (ACP). While ACP is required of all public school districts that serve students in grades 6-12 beginning in the fall of 2017, the concept is good for all students in any educational setting. Career Cruising software for students and staff is one of the tools. Find out how these tools can be used to help your child explore STEM careers.
9:00 and 10:00 am
How Can I Help? Helpful Tips for Parents – Keep your daughter inspired to continue in STEM courses and consider STEM careers.
Panelists: Judy Ruhl, Marion Peterson, Nancy Grube
10:00 and 11:00 am
Glimpse of the Future-This is a panel discussion of women working in STEM careers.
Panelists: Elizabeth Braatz, Danielle Cass
12:30 and 1:30
Considering Post High School Options/Making the Right Choice
12:30 and 1:30
How Much Will this Cost? – EdVest and applying for financial aid
View our video from 2015.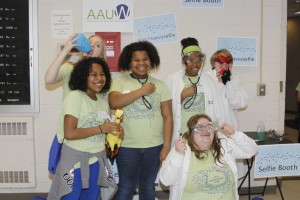 Tech Savvy is a national AAUW program started in 2006 by Tamara Brown of the Buffalo (NY) AAUW branch.  It is designed to give sixth to ninth grade girls an opportunity to experience firsthand how science, technology, engineering, and math (STEM) fields can lead to exciting careers. Since its inception, Tech Savvy has reached over 2000 girls in the past several years, and led Brown to be named a White House "Creator of Change."
Tech Savvy 2015 — UW Oshkosh — April 2015