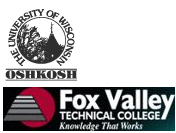 Scholarships
Each year one scholarship is awarded to a graduate student at UW Oshkosh and another to a degree seeking student at Fox Valley Technical College.  Contact the branch for more information.
Culver's at 2270 Westowne Avenue, Oshkosh
Monday, October 22, 1918, from 5:00 – 7:00 p.m.
Culver's requested five AAUW volunteers each hour to deliver food and beverages to tables indoors and cars outdoors from 5:00 – 7:00 p.m. For greater participation volunteers will serve one hour each. Our five volunteers from 5:00 – 6:00 p.m. are as follows: Nancy Worland, Fran Garb, Brenda Wilusz, Cheryl Hansen and Carol Conway-Gerhardt. Our five volunteers from 6:00 – 7:00 p.m. are Lynda Olsen, Diane Vogel, MaryBeth Petesch, Jeanne Tondryk, and a volunteer yet to be named.
Culver's will donate 15% of all sales during the 5:00 – 7:00 p.m. time period. It is not necessary to indicate the AAUW women's scholarship cause. AAUW members are encouraged to email, text, Facebook family and friends to encourage them to purchase food and beverages during our special time period.
Benvenuto's at 300 S. Koeller Street, Oshkosh
Tuesday, October 23, 2018, from 11:00 a.m. – 10:00 p.m.
Benvenuto's donates 20% of all sales from 11:00 a.m. – 10:00 p.m. under the title "Dine Out," which includes food when dining in, carrying out, and being delivered AND all beverages including alcohol.
The important part of this fundraiser is that only those who let the wait staff know they are participating in the AAUW fundraiser will be included in the calculation.
NOTE: Our branch meeting is a dinner meeting being held at Benvenuto's in the separate back room. This way our purchases will become part of the fundraiser. The plan is to meet at 5:00 p.m., order our food and beverages, have the staff deliver any soup or salad that is ordered, have our speaker Dr. Alicia Johnson present about the "UWO Red Zone," and then have the staff bring our entrees. Following our dinner will be a short business meeting.
AAUW members are requested to encourage families and friends to be Benvenuto's customers on October 23 in whatever manner works best for them, including dining in, carrying out or having delivery. Communication could include text, email, Facebook, AAUW website, conversation and phone calls.
SCRIP
We are trying a new fundraiser and would like to invite all our members to participate. It is super easy and requires you to:
Go on the website of Great Lakes Scrip Center Choose businesses you normally do business with. Write down the business and the amount of the card you wish to purchase. Send check to Rosalie Easton at 1545 Arboretum Drive #205, Oshkosh 54901. Send business name and amount of card purchases to Susan Morrissey at 387 Naymut Street, Menasha 54952. Susan will get your card to you.