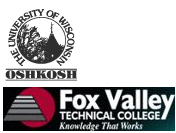 Scholarships
Each year one scholarship is awarded to a graduate student at UW Oshkosh and another to a degree seeking student at Fox Valley Technical College.  Contact the branch for more information.
Fundraisers for 2019 – 2020
SCRIP (see details below) – All year; buy gift cards for over 300 businesses wherein a percent of money goes to AAUW for women's scholarships.
LulaRoe – November 2 – 9, 2019, online for a week and in person during certain hours; 20% from Owner/unknown % from Corporate
Topper's – Thursday, 3/19/2020 from 4:00 – 9:00 p.m.; 15% (Address: 220 Wisconsin Avenue)
Culver's – Wednesday, 4/10/2020 from 5:00 – 7:00 pm; 15% (Address 1580 S Koeller Street)
LulaRoe – Springtime (Dates to be determined)
Mahoney's – Tuesday, 5/26/2020 (possible fundraiser); Dinner meeting to be held there; % unknown (Address: 30 Wisconsin Street)
SCRIP
We are trying a new fundraiser and would like to invite all our members to participate. It is super easy and requires you to:
Go on the website of Great Lakes Scrip Center Choose businesses you normally do business with. Write down the business and the amount of the card you wish to purchase. Send check to Rosalie Easton at 1545 Arboretum Drive #205, Oshkosh 54901. Send business name and amount of card purchases to Susan Morrissey at 387 Naymut Street, Menasha 54952. Susan will get your card to you.